By now it's been more than a year since video calls became the norm for work meetings. But if you're still wishing for a home office makeover that would help you look more impressive on those calls—or repeatedly crossing your fingers that Zoom filters don't turn you into a virtual kitten unexpectedly—then it's high time you came up with a solution for a better backdrop.
Meet the Anyvoo collapsible, portable video meeting backdrop, or Voodrop, an easy-to-use collapsible backdrop designed specifically for use on video calls. No matter what your office looks like, the Voodrop has you covered. It also eliminates the need for faulty filters and less-than-perfect virtual backgrounds.
Anyvoo portable video backdrop screens are built for anyone who wants to look professional during video calls. Once you find out just how easy they are to set up and customize, you might wonder how you ever Zoomed without one.
How does the Anyvoo collapsible backdrop work?
An Anyvoo collapsible backdrop is a portable, lightweight system that sets up in as little as three minutes (though it may take a bit longer on your first try). It consists of:
A stand—A single telescoping arm on a sturdy tripod base that can be adjusted to your desired height
A frame—Four sturdy aluminum tubes—two crossbars and two uprights. (We also offer a travel frame that is very similar to our quick set-up frame, but each tube can be easily separated and folded in half using shock cords. The travel frame, when collapsed, is about 25 inches long, so it can fit easily into a suitcase.)
A fabric sleeve—High-quality, wrinkle-free, printed athletic-apparel-quality spandex (think yoga pants) that is double-sided to feature two images, one on each side.
Everything together weighs less than 10 pounds.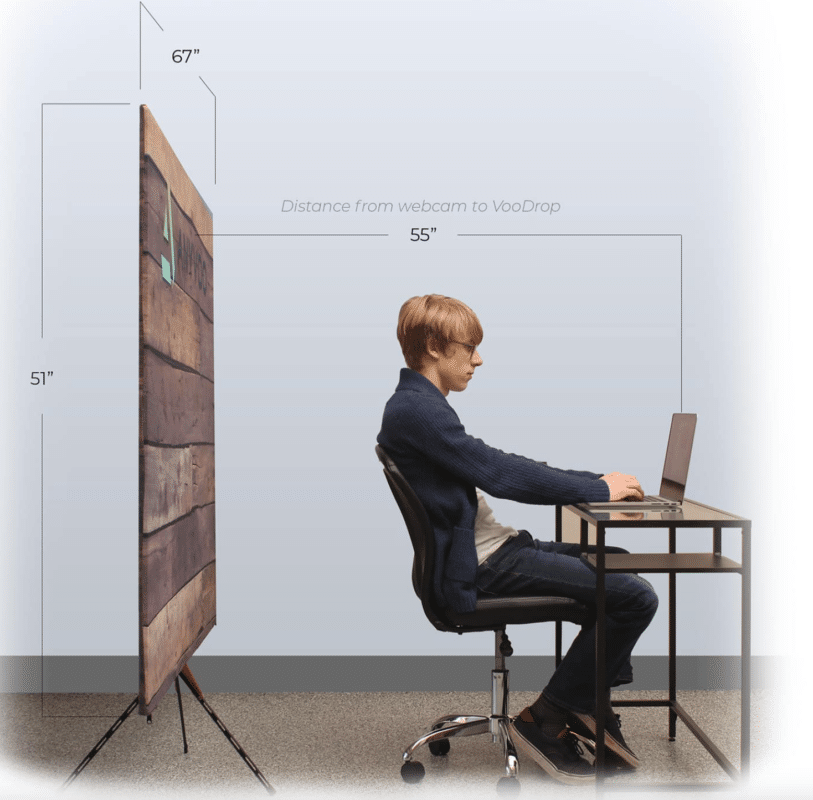 How The Voodrop Collapsible Backdrop Works: Setup Basics
We like to say that the Voodrop is so easy to set up, even your CEO can do it! Check out the full-length video on our site for complete setup instructions, but here's the gist of it:
First, set up the stand. Fold down the bottom legs into tripod position and rotate the black grips clockwise until they lock. Next, extend the telescoping arm to your desired height and lock into place the same way.
Next, assemble the frame. Each cross bar slots securely into each upright using a thumbwheel closure.
Finally, slip on the fabric sleeve. The fabric sleeve can be easily slipped over the frame and zipped closed. Once in place, it can be stretched and plucked in all directions to adjust as needed.
"The Anyvoo background is practical, portable, lightweight and awesome. It takes me less than three minutes to set it up, and I transform any presentation's background from 'messy office' to something distinct and unique."
—Michael Bungay Stanier, author of WSJ bestseller The Coaching Habit
The frame sits on a custom-made, mold-injected mount at the top of the telescoping stand. At 4'4″ by 5'7″, this frame is designed to cover your entire video conferencing screen at a normal resolution. The best way to ensure your Voodrop is in the right position is turn on your webcam and adjust as needed.
Can I customize the design?
Absolutely! There are two ways to customize your collapsible backdrop:
Use an Anyvoo stock design in combination with your company's logo. All you need to do is choose the stock design you like and email us your high-resolution logo—we'll do the rest. After that, we'll create a design proof for your review and, once you approve it, we'll print and ship it.
Create your own custom design. Use our Anyvoo Photoshop template to create a custom Voodrop. Once you're satisfied with the design, just email us the file and we'll take care of the rest. And yes, we can accommodate Pantone color-matching if needed.
Every Voodrop is two-sided, which means you get to choose two different designs to use for your video calls. A liner prevents the undisplayed design from showing through.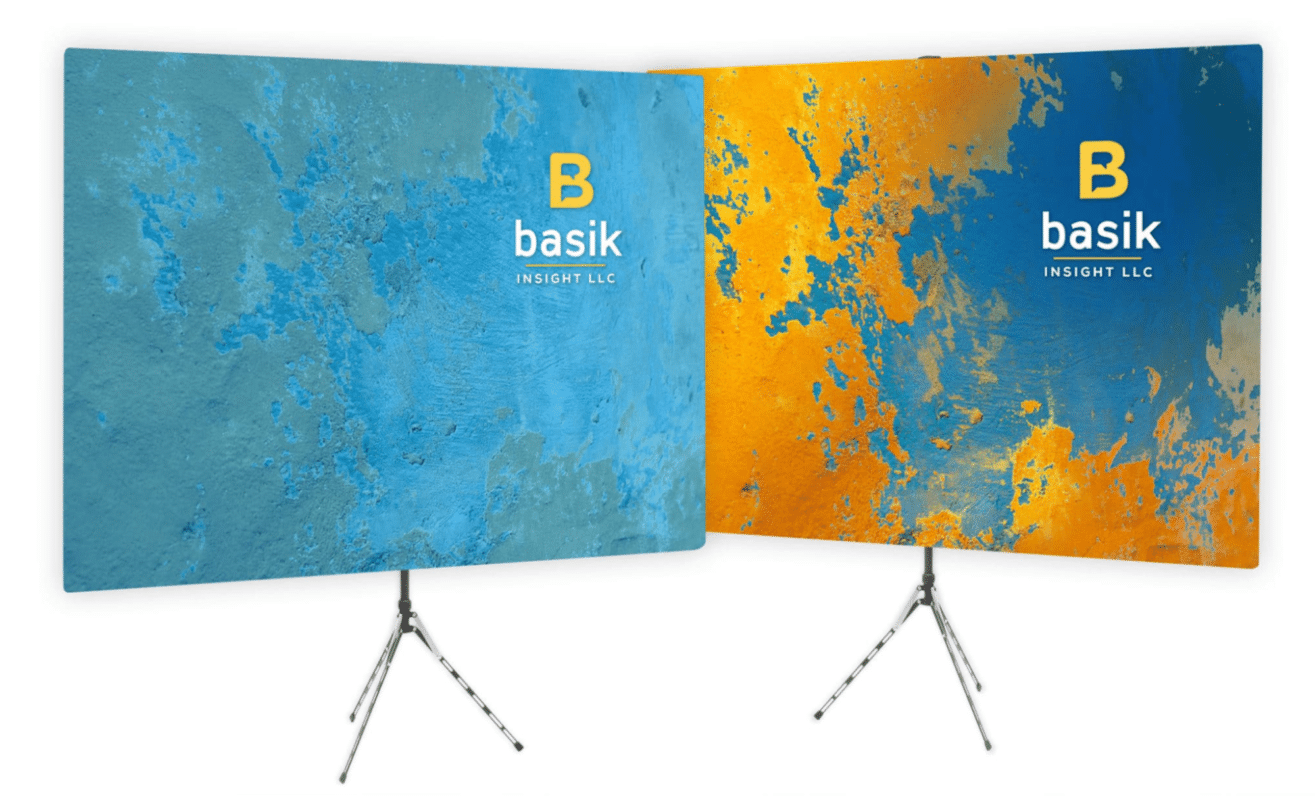 Why invest in an Anyvoo portable video backdrop screen?
Portable video backdrop screens give you a polished look on video calls that speaks volumes about your professionalism. Anyvoo collapsible backdrops are perfect for high-performers who want to look great on camera and make a dazzling first impression during client calls, presentations, or keynote speeches. With a slick branded backdrop you're sure to stand out (in a good way). Here's why:
It conceals your office/personal space. Whether you're working from home or attending a conference call from your cluttered cubicle, overcrowded office, or cheerless conference room, you want to give your clients an amazing first, second, and third impression.
It creates a cohesive visual presence. Collapsible backdrops can visually unify team members and present a unified presence during client calls and presentations.
It does double-duty as wall art! Many of our customers are full-time remote employees and businesses, so they spend a lot of working hours on Zoom or other video tools. It doesn't make sense for them to dismantle their Voodrop at the end of each day, so they got creative! When they don't need to display their branding or corporate backdrop, they simply flip it over and hang a beautiful piece of artwork on their wall using our custom wall mount.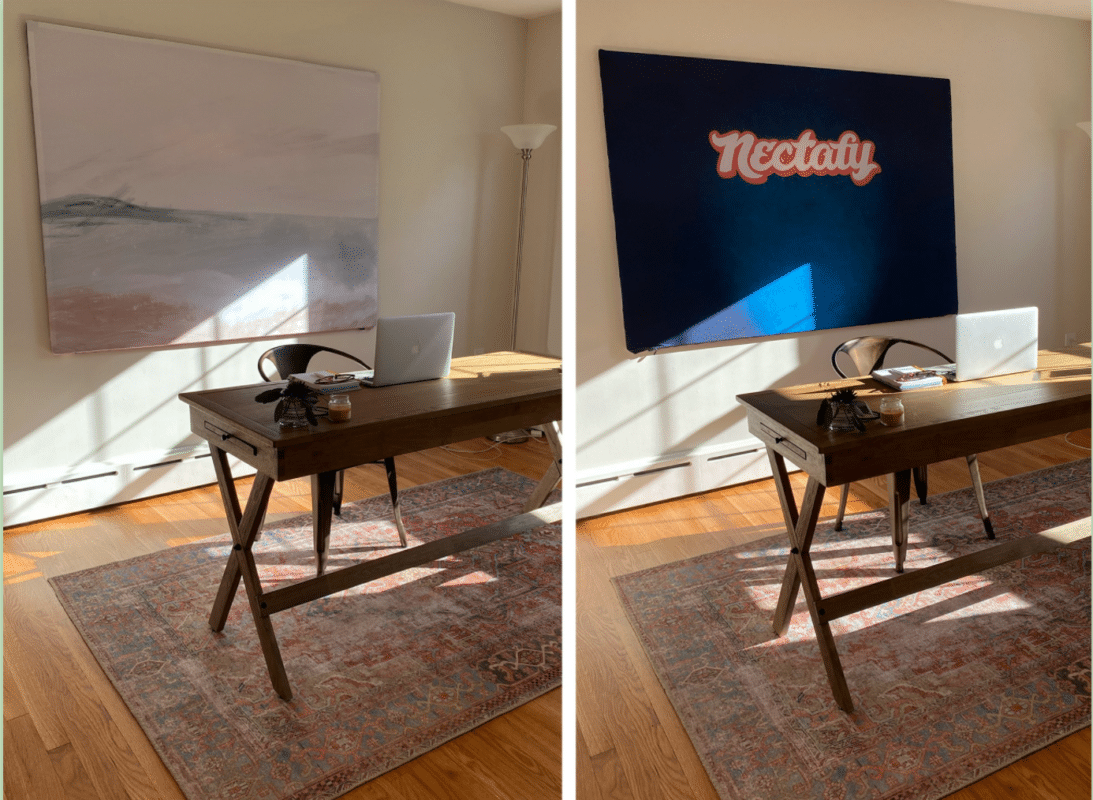 If you're ready to make a $300 investment in yourself and your career, take a look at our available stock backdrops or request a Photoshop template and design a one-of-a-kind backdrop that suits your needs. Each Voodrop is custom-made and takes four business days to create once we receive your approval on the design proof.
We ship UPS Ground from our offices in Pennsylvania. If you need your Voodrop fast, please let us know it's a rush order so we can expedite it.