Tired of putting your cluttered workspace, poorly lit dining room, or other unbranded, private space on display during business Zoom calls? You're probably not alone. According to TrustRadius, the web and video conferencing category for business technology saw a 500% increase in buyer activity since the Covid-19 outbreak began. That means countless businesses are now using video calls as their primary communication tool. But you can bet that only a few have made similar investments in their video background—a decision that could be detracting from their efforts to communicate effectively and professionally.
Now's the time to elevate your video background from an improvised one to a deliberate one. The way I see it, remote workers have three choices for Zoom backgrounds:
Create a "real" Zoom background space in your home styled with your company logo, colors, and carefully curated decor;
hang a physical background directly behind you on calls to block your private space from view, or
select a virtual background.
Which of these options will produce the most professional-looking Zoom background with the least amount of effort? From someone who's tried all of them at one point or another (and started a business based on my own company's video background struggles!), I can attest to the fact that only one works best over the long-term. That said, let's take a look at the pros and cons for each so you can make your own decision.
3 Options For Professional Zoom Backgrounds
Here's the skinny on all the Zoom background options—real, physical, and virtual. Hopefully this info will save you a few iterations as you hone in on what works best for you.
1. A "Real" Zoom Background: A Custom-branded Space In Your Home
We'll be the first to admit that a designed space in your home complete with signage and carefully curated decor is the crème de la crème of Zoom background options. And you don't even have to be a decorator yourself to do it: There are companies, like Home Staging Step-by-Step, that can stage your workspace environment to look exactly the way you want it.
But beware that sometimes your chosen decor doesn't align with the general look and feel of the company you are representing. This option also requires time, creative talent, space, and a budget, which doesn't make it realistic for everyone.
But if you do decide to go this route, here are a few tips for improving the look of your room on Zoom calls:
Focus on lighting. Diffused (soft) light illuminating you from the front is the best option because this ensures you will be lit evenly. Avoid sitting with a window behind you or off to the side as this can lead to uneven lighting. Many people are now using LED ring lights to create soft, stable, attractive lighting; however, you can also sit facing a window to naturally illuminate your face.
Choose colors carefully. Stick to a neutral backdrop to avoid distracting your audience. Alternatively, a smart color palette (colors that flow well together) can help make the backdrop look put together. Avoid yellow tones because they can look washed out on video; opt for blues instead as they render the best.
Stage your space. Stage a few carefully selected items or decorative pieces behind you. Items like a gallery wall, floating shelves, or books make good backdrops to your Zoom call. Be careful not to overdo it, though, as too many decorative pieces can be distracting.
2. A Physical Background: Custom-printed Backdrops
Custom-printed backdrops are perfect for business men and women who want a professional Zoom background that is affordable, lightweight, portable, and temporary. There are no shortage of options in this space, so let's take a look at a few top choices:
Vinyl Wall Stickers
A vinyl wall sticker is a sticker that is designed to stick on a wall or any smooth surface like windows and tiles. Though they are technically removable, they're not meant to be moved and repositioned regularly because the backing could lose its tackiness. This option is the most affordable, however, it limits your ability to change locations or positions. Once it's installed, you're stuck (pun intended).
It's important to double check it's installed at the correct height to accommodate your Zoom camera position. If you have textured walls, this option is a no-go, as each crevice will be on full display during meetings.
Finally, we'd be remiss if we didn't stress that vinyl is a highly reflective material. That means it will not play well with certain types of lighting and could be a distraction during video calls. If you do decide to try vinyl wall stickers, search for a vendor that offers a matte vinyl finish for best results.
Vinyl Banners
Vinyl banners have been around for years, so we wouldn't be surprised if this idea has already come to mind. Vinyl banners are a good match for anyone with enough space to accommodate large, heavy signage that's supported by two large tripods and is semi-permanent (difficult to relocate). These are typically offered in two widths: 5 feet and 9 feet (not including the tripod feet).
Vinyl banners hang from a pole by grommets and are secured with clips along each side. Hanging these taut is important to minimize curling. Also, the vinyl material must be carefully stored to avoid creasing and wrinkling. As with the wall stickers, these banners are highly reflective, so they can undermine your efforts to look professional. Once installed, adjusting the height or location can also be a cumbersome process, so it's best to consider a vinyl banner semi-permanent.
Background Photograph Paper
This is a good option for photographers who need a seamless background or anyone who needs a greenscreen for their videos. The setup is similar to vinyl banners in that it requires two large tripods and a connecting pole.
One of the drawbacks to this option is that the paper sometimes drapes from the wall and onto the floor, making it likely to get stepped on, tripped over, dirty, and wrinkled/creased as time goes by. It's also difficult to relocate. The paper can be creased or wrinkled easily, giving your background a worn, unpolished look.
Digitally-printed Stretch Fabric Voodrop
This is a great option for anyone who needs a professional Zoom background that:
Can be used virtually anywhere
Can be stored in a flash without a lot of fuss
The Voodrop is lightweight and hangs from a single telescoping arm on a sturdy tripod base, which means it can be quickly and easily adjusted up or down to accommodate sitting or standing. The frame consists of four interlocking poles secured with a thumbwheel. The polyester and lycra blend fabric is naturally matte and can be easily stretched over the frame.
A Voodrop can be easily transported throughout your home or used on the road. You can take it anywhere, set it up and break it down in less than three minutes, and fold, roll, or stuff the fabric into a box and it will look great every single time.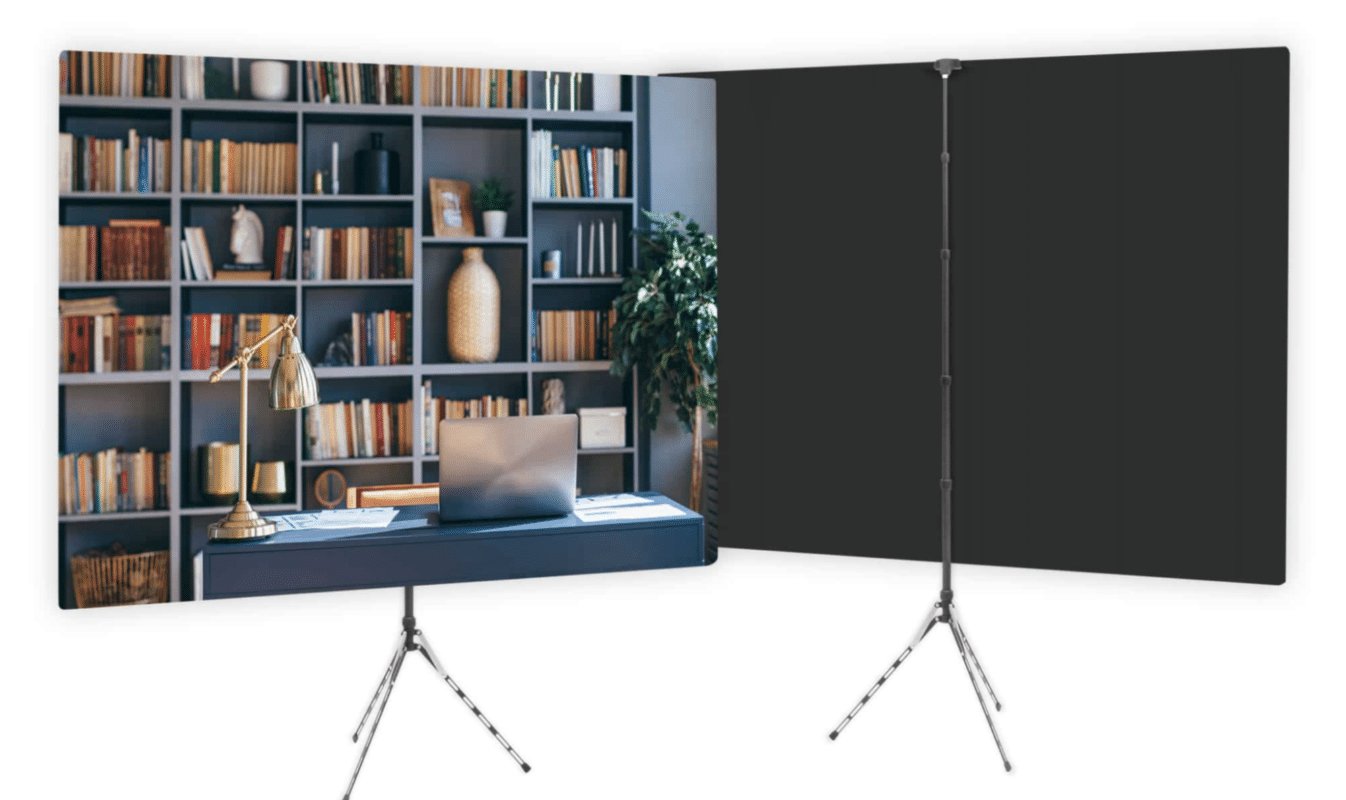 Virtual Zoom Backgrounds: A Solution Of Last Resort
"Last resort" sounds a little harsh, right? Don't get us wrong; if you're hosting a virtual party with family or friends, go crazy—be a cat, join the Starship Enterprise, and have a great time.
However, we firmly believe there is a time and place for virtual backgrounds, and a professional Zoom meeting just isn't it—even if you're using a custom branded virtual background painstakingly built by your marketing department. The last thing you want when you're presenting is a distracting virtual background that makes your hands, head, or hair disappear unexpectedly. A more professional alternative is simply to position yourself in front of a plain, white, or neutral colored wall instead.
Zoom recently launched a Blur Background option for meetings and webinars as well. So, if you absolutely must use a virtual background to hide what's going on behind you, we recommend this option over any other. It can be selected on the desktop under the "Choose virtual background" menu from the "Start video" icon in your Zoom meeting.
It's time to level up.
Building a branded workspace environment that aligns perfectly with you and your company's brand and messaging is
. However, it's not realistic for everyone.
Advance your brand and messaging with an affordable, portable, easy-to-use custom-printed Voodrop. It's the only professional Zoom background that essentially turns working remotely into a non-issue over the long-term—because you look so good, people won't even realize (or care) you're not in an office. (Read how one company is using Voodrops to help its remote team members elevate their professional interactions.)
If you're ready to make a small but incredibly impactful investment in your career, try a stock or custom-printed Voodrop that aligns with your brand. We're confident you'll like the way it makes you look on camera.