If you do video calls for your business, you know how challenging it can be to look professional and sharp on your calls.
It's difficult to find ways to stand out from the crowd, especially when you're using your computer webcam in a home office setting. 
That's where webcam backgrounds come in. Whether you want to block people from seeing the messy room behind you, or you're looking to use your company branding, backdrops can give you a little extra edge for your video calls.
It may be easy to say you want a backdrop for your video calls, but finding a solution that works for you is another matter. It can be overwhelming to know where to start looking for a background.
That's why we wrote this post.
This 6,000+ word article covers 19 different background solution ideas for your video calls, to make sure you look amazing. From green screens to wall decals, we've covered a myriad of solutions for home office backgrounds.
We've created a table of contents below, to make it easier to get around:
Backdrop Ideas For Video Calls
Without further ado, here's a list of the best video conferencing background solutions, with the pros and cons of each.
Your Office Space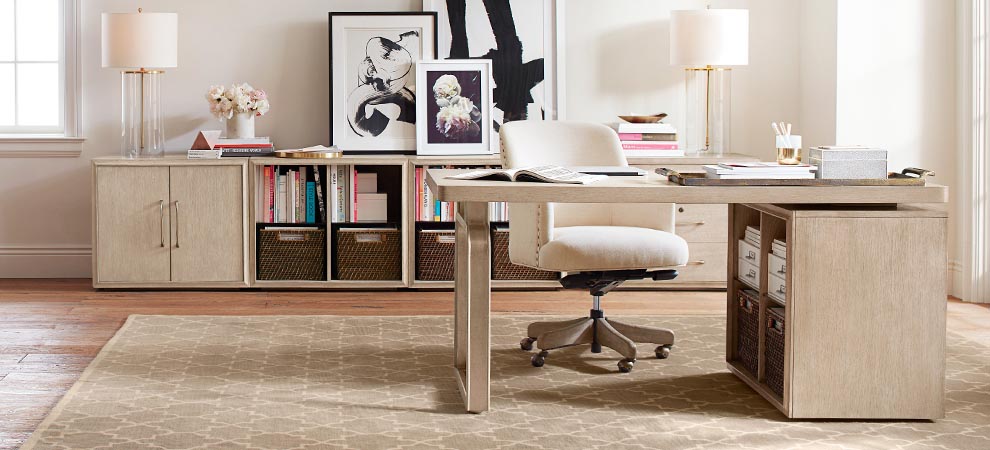 Perhaps the most obvious solution to optimizing your office for webcam calls is simply creating an office space that looks good on video.
The best case scenario for this would be that you have a beautiful video studio setup or a comfortable office that looks great in person and on camera.
Pulling this off requires a ton of skill, though.
In order for this to work, you have to have a room that is dedicated solely to being your office. You can't have people walking through in the background or laundry sitting on the couch. You have to keep your background clean and organized, ship-shape.
I think Angel Marie from ConvertKit did an excellent job with this, but she's the exception rather than the rule.
Authentic, personal feel to your videos
Hard to maintain and keep clean
Room can't be used for anything else
Can be expensive getting good lighting and decor
Tips For Implementing A Video-Optimized Office Space
Set your desk and computer up where the best lighting is for you as the speaker. Think about how to get lighting on yourself for video calls and maximize that. In video, they call this your "key light."
After you've set up your desk so that it gives you the optimal key light, add points of interest to your background. These can be decorations or pieces of furniture—just keep it minimal so it doesn't detract from your video.
Light your background, but not so much that it throws your webcam off if you're doing video calls.
One thing to note is that you can place your desk facing into your room to reduce how much of the room you have to keep looking good, but the downside is that this usually means you're facing away from natural light, which can impact how you look on your webcam.
Paper Backdrops With Wistia Uplighting
Paper backdrops completely focus the attention on the speaker during video calls. There are no distractions, nothing else to look at.
Wide paper produces a really nice surface that isn't reflective, and if you take your time setting it up with the right lighting, you can get some great looking results.
Typically, especially the way Wistia does their lighting, you can create a visual focus right in the middle of the shot.
One thing to note here is that, although Wistia highly recommends this approach for recording videos, I doubt they intended it to work for your home office.
The setup can take up a lot of room, so you'll want to be sure you have it somewhere you don't have to mess with putting it up and taking it down a lot.
Paper is fairly smooth if you've treated it nicely. Of course, if you wrinkle it up, you have to just tear it off and go through the next part of the roll – it's not something you can fix and reuse.
It can be a little difficult to get it just right, especially if you're going with a lighter color, so follow Wistia's advice to do some sort of colored paper.
They do a single uplight behind the speaker that I think is pretty effective. And again, make sure that the key light and the main lighting is all set up first before you mess with your background lighting.
As far as the sizing goes, you probably won't be able to get away with only four foot wide paper. You'll need to be closer to five and a half feet as a minimum. The larger rolls of paper are up to 108 inches, which is nine feet wide. By the time you put your stands on for the crossbar, you're at 12 or 13 feet, so it's pretty unwieldy for a typical home office.
Visual focus right in the middle of the shot on the speaker
Paper is smooth if you treat it nicely
Easy to set up if you're planning to leave it set up
Challenge to put up and take down over and over
Difficult to get the background looking right if you want a light color
Paper can get dirty and wrinkled easily
You can't reuse the paper once it gets wrinkled
Paper setup is bulky if you get it large enough to look good on a web call
Tips For Implementing Paper Backgrounds
If you're serious about different paper backgrounds, you can buy a pulley system to mount to your wall. This lets you mount more than one paper at a time.
You can order a larger size of paper, cut it down to the size that fits your wall, and mount the papers that way. That's a super geeky thing to do, but it's effective. I used to have it in my office, so I'm allowed to call it geeky.
Vinyl Backgrounds
Vinyl backdrops are super, super cheap. You can get one printed for probably about $50 for a six foot wide background, which is about the width you'd want. Of course, the reflective material doesn't always work well on webcam videos, and you have to treat the vinyl with special attention so it doesn't get creases in it.
Good size for webcam video
Easy to set up (as long as you are able to leave it set up)
Vinyl is reflective, which doesn't work well for video calls
Vinyl can crease and get messed up easily
Vinyl isn't able to show much detail
Tips For Implementing A Vinyl Background
Don't try to print complicated patterns or textures on vinyl. Instead use solid colors or images that don't require a lot of detail.
Be careful when taking down and rolling your vinyl backdrop for storage. If you accidentally crease the vinyl, the crease will stay in the vinyl forever.
Green Screens
Green screens give you a ton of flexibility.
That's why movies have used it for forever; there are tons of ways to use it. Because so many people are now working from home because of COVID-19, virtual backgrounds on Zoom calls or Microsoft Teams have become a big go-to.
It's usually pretty easy to get a green screen behind you: you could do a pipe and drape green screen or a collapsible green screen. The WebAround has got that green screen that sits on the back of your chair, if you don't mind feeling like you're getting eaten by something (it's really literally right up against the back of your head!).
If you want to do silly things, a green screen is perfect, like if you're going to a Zoom party and just need to have a crazy background behind you. Green screens are fantastic if you're looking for some attention or making a joke.
The downside is that even with Zoom and Microsoft Teams, if you don't have even lighting, your green screen won't respond well. It can almost become more of a distraction than a help.
Even with even lighting, you'll still get some ghosting around your hair and between your fingers, and if you move quickly it can create problems with your background. Still, green screens are a useful tool to have in your arsenal—just maybe not your go-to background.
Easy to get a green screen behind you
Quick changes for your background
Good for fun or silly uses like parties
Unless you have really even lighting, green screens don't respond well and can be distracting, especially on video calls
Ghosting around hands and hair
Can't make quick movements or gestures or the green screen will glitch
If you plan on using live video for Loom, Vidyard, BombBomb, or other sales tools, green screens aren't supported
Tips For Implementing A Green Screen
When you're looking for what kind of green screen you're going to need, any shade of green works fine. It's not critical that you get a specific shade of green in order to make your green screen work correctly.
That being said, there are a few things you can do to help your green screen perform at its best:
Make sure your lighting is even. This is critical. Try to get an equal balance of lighting on yourself as the speaker and on your green screen behind you.
Don't wear any shade of green clothing that's close to the color of your green screen.
Make sure your green screen is wrinkle-free.
Make sure your green screen isn't made of reflective fabric.
Use graphics that are designed to match the lighting and color balance of your video setup.
When it comes to choosing an image to put behind you as your background, don't use images that are over the top or unprofessional, like beaches or fake conferences. Use a real background.
Stay away from using video as your green screen background. Unless you have a huge studio and budget like Hollywood movie productions, your background will end up looking strange and disproportionate. You don't need to look like you're standing in front of a frothing ocean or just outside a bustling city. It will just confuse the people on the other end of the video call.
If you're going to be sitting at your desk for your video calls, the Webaround is a good option. To make sure the green screen fills your camera, you can go with their rectangular version, the Wide Shot Webaround. If you use a standing desk or want a little more variety, go with a collapsible background like this one. You'll need a lighting stand and a clip to make it work.
One thing to keep in mind when you're deciding what route to go for green screens: even with a really nice green screen, you're still going to look like you're using a green screen. That's just how it works.
Anyvoo Video Conference Background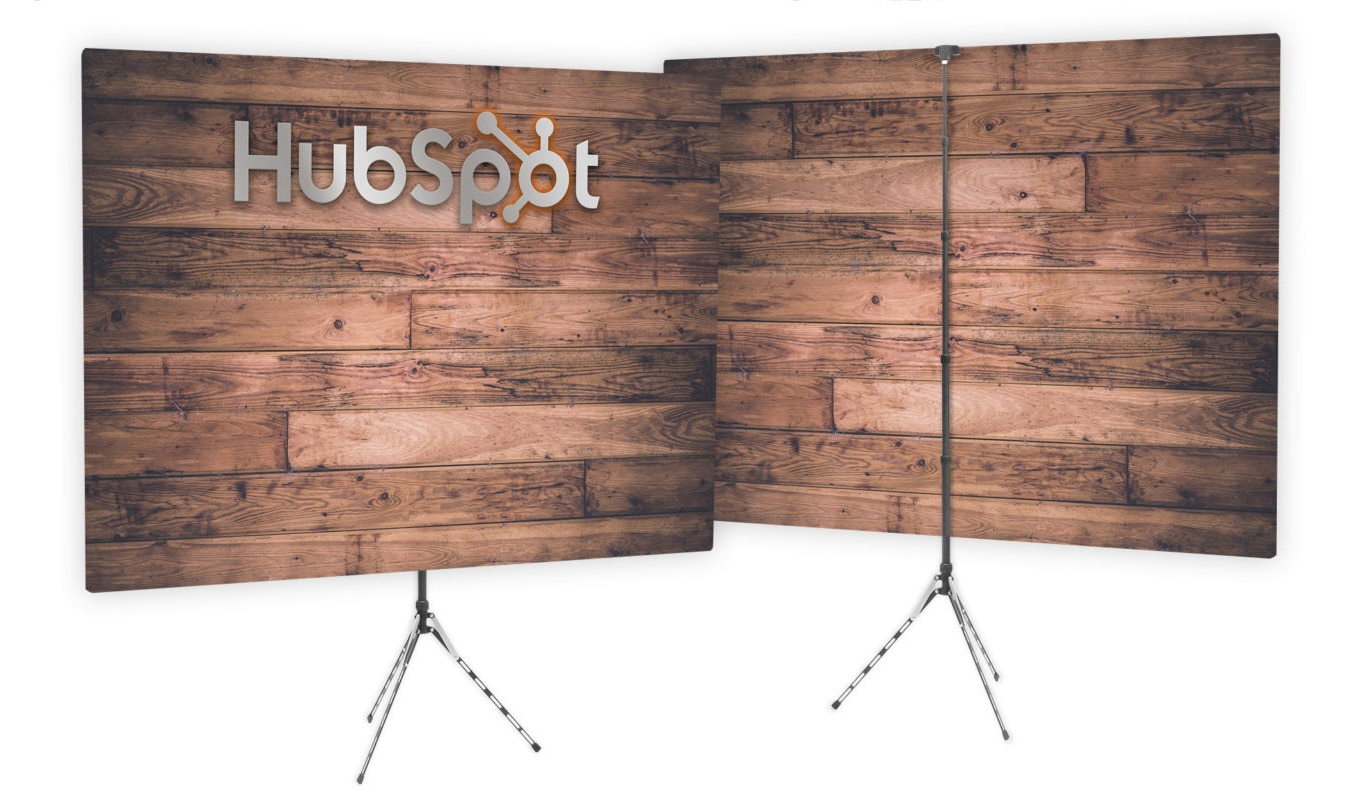 If you want a portable, simple to use, elegant background option for your video calls, Anyvoo makes backgrounds specifically for video conferences with your webcam.
The backdrops are just the right size to fill your webcam video without taking up too much space in your home office.
You can choose from a number of cool background prints, or create your own custom design.
Because Anyvoo backdrops use tension fabric, you can print patterns, textures, and logos on them, and they'll all look good. You don't have to worry about crooked lines or sagging edges.
Another benefit is that Anyvoo backdrops are two sided. You can get a design with your logo on one side, and a brick or wood wall on the other. Or you could do two different custom logos, one on each side. Or you could print a stock design on one side, and a green screen on the other. You get the idea. You have a lot of options.
Easy to set up and take down
Logos and patterns look great on it
Fabric doesn't look wrinkled because of tension design
Background doesn't take up a lot of space in your office
Midrange price in the $200s and $300s, so some of the other background options, such as wall decals or Webarounds, are cheaper.
Tips For Implementing An Anyvoo Video Conferencing Backdrop
Because the Anyvoo is optimized for a certain width, make sure your computer (and webcam) are square with your desk. If it's at an angle, you won't get full coverage.
Since the Anyvoo is double-sided, print a branded side and an unbranded side so you have the most flexibility.
To be the most unique, create your own custom design rather than using one of the existing Anyvoo designs.
TV Monitors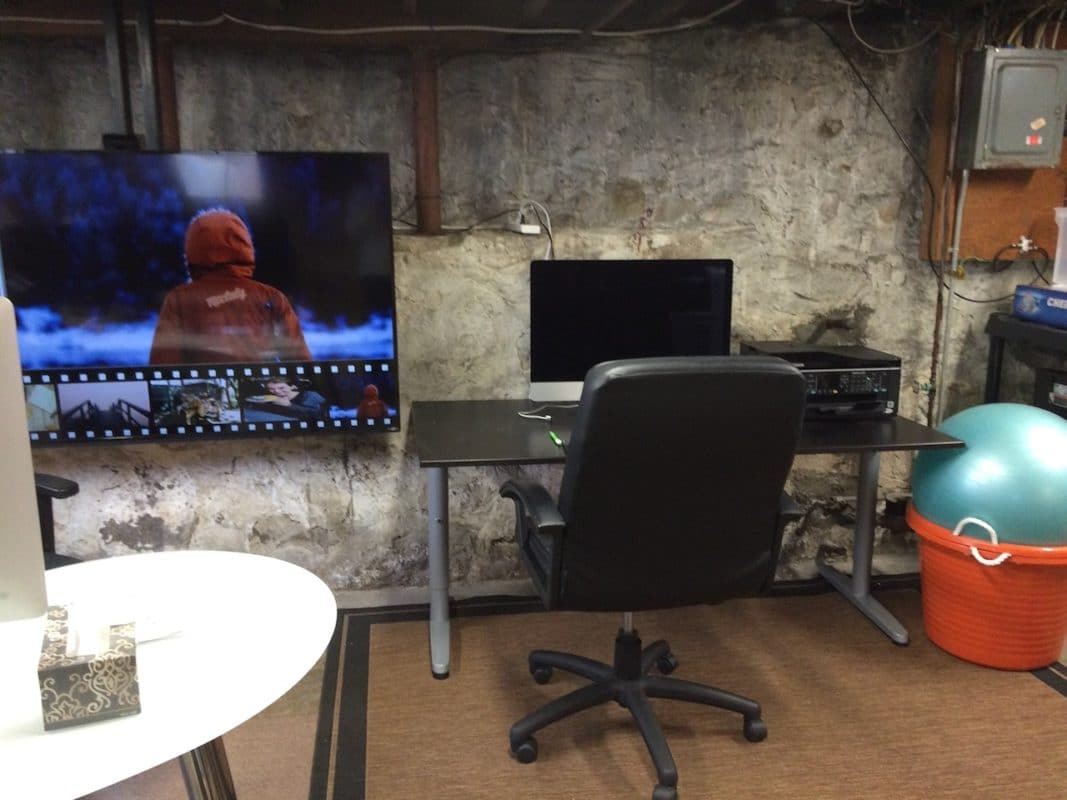 This is actually a photo from the crumbly basement where I had my first home office. My computer is to the left of the frame. So you're seeing the TV I had centered behind my calls.
I've tried using a TV monitor before. A friend got us a 70-inch TV, so I hooked it up to an Apple TV Box and created several graphics that were branded for Nectafy, my marketing agency. I had the Apple TV Box transition between the images.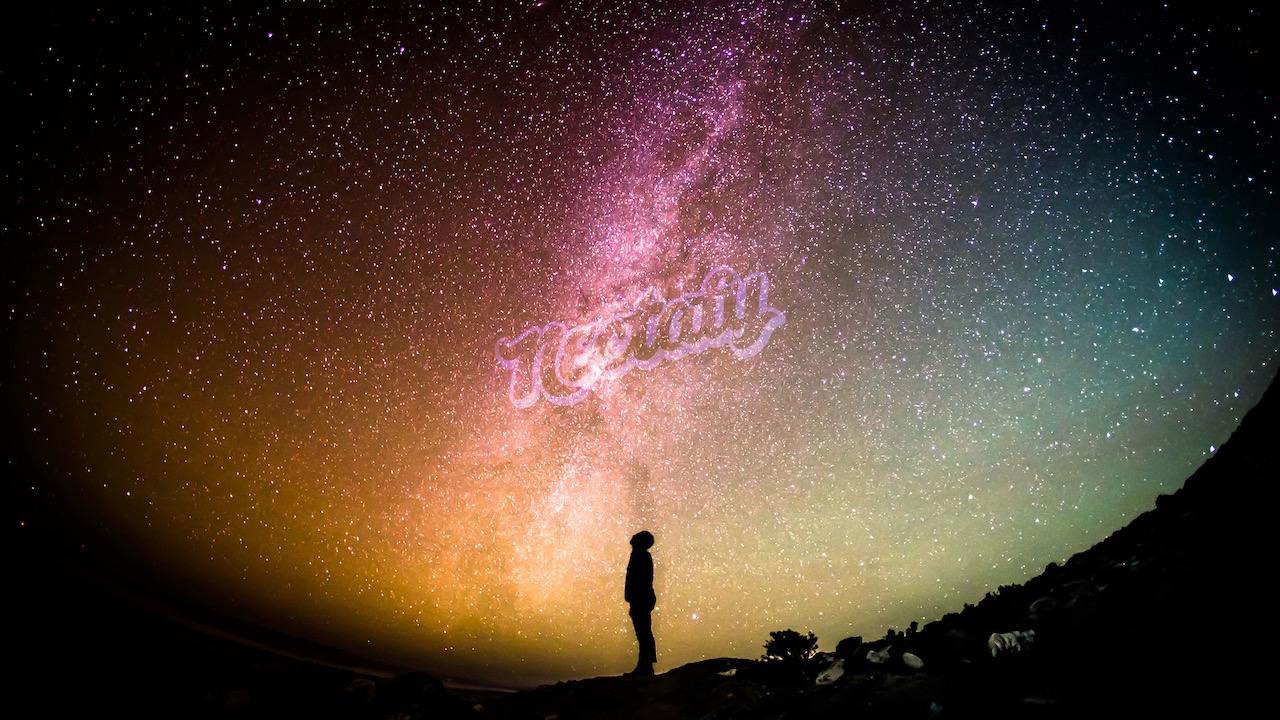 While it looked cool, the challenge I ran into was that it's very finicky to get your lighting right on you as the speaker.
For instance, on a web call, it was tricky to balance my lighting without getting light reflecting off the screen.
Once you get the light to stop bouncing off your TV monitor, the image brightness on the screen itself has to be tweaked just so, to make sure it's visible but not distracting. I had a really hard time dialing that in.
Also, because it was an electronic, it was one more thing that I would forget to turn on before a call or that would go to sleep during a video conference. A black screen behind you doesn't look nearly as cool.
Not to mention, it seemed like a sad underuse of a really nice TV and Apple TV Box to simply loop some images on it.
My takeaway is that it was a creative solution, but maybe not the best.
You can use multiple graphics and transition between them
Creative solution to a webcam background
Challenging to get your lighting right and keep it from reflecting on the TV screen
Image brightness has to be tweaked just right so it's visible but not distracting
One more electronic to forget to turn on or risk malfunctioning
Tips For Implementing TV Monitor Background
Choose a monitor that's large enough to show up behind you on your video calls. If your monitor is too small, it will be hard for the person on the other end to tell what images are even showing.
Experiment with your TV monitor's brightness to find the balance between being too bright behind you as the speaker and being too dim to come across on your webcam.
The Great Outdoors
If you want to ditch having to fiddle with lighting and backgrounds, going outside is always an option. Except when it's not. Like when it's windy. Or raining. Or both.
But when it is sunny and clear outside, you can get some fresh air and look relaxed and cool on video calls. Plus, you'll get to confuse everyone at your video conference, because they'll be wondering where you're working from.
If the lighting is too harsh, your webcam won't be able to function
Uncontrollable weather and sounds
You may end up looking like a silhouette
Tips For Implementing An Outdoor Background
Keep the sun in front of you, not behind you, to keep you from looking like a silhouette.
Stay in the shade! I know I sound like a mom yelling at her child in the summertime, but it's true. Your webcam is highly sensitive to light and doesn't have a lot of capability of subtlety. If you're in direct sunlight, the sun will actually blow out your camera and make it hard to see your face.
Step And Repeat Banners
Step and repeat banners are a go-to for video backgrounds. If you're going to go in this direction, make sure you use a fabric banner instead of a vinyl banner, because the vinyl has a sheen to it which will be distracting on your webcam videos.
Fabric banners are excellent to use and fairly inexpensive, if you keep a few things in mind:
Whatever you put on the banner will not have a very defined pattern. You could do it on a vinyl banner, but again, you'll end up with a lot of reflection. Press conferences and similar meetings use vinyl banners, but vinyl probably isn't professional enough for business video calls.
It's crazy tricky to get a straight line for step and repeat banners. I sent my team at Nectafy five backdrops with an image of this rustic wood wall background on it, and they eventually abandoned using the backdrops because they were so bulky and hard to get looking right. The fabric required lots of clamps to keep from sagging.
Even if you do get your fabric lined up perfectly (it can take 20 to 30 minutes to really nail it), you aren't going to want to have to put it up and take it down a lot.
The bases for these backdrops are huge pipes. If you're planning on doing a sit-stand desk, you can't keep moving the background up or down. Instead, you'll have to get a larger size wall, which means if you have a logo, it's not always right where you want it in your video.
One last note is that the material on these fabric banners takes special attention. You have to store them carefully because they can show wrinkles quite a bit.
The fabric isn't a tension fabric, so the wrinkles don't pull out when you set it up for use.
Go-to background solution
The images you print can look fuzzy, so you can't get a defined pattern for your background
Can't print images such as brick or wood, because they look warped
Vinyl background is too reflective to work well for video calls
Takes forever to get the fabric lined up right
Not easy to transition between sitting and standing if you have a sit-stand desk
Tips For Implementing A Step And Repeat Banner
Don't use backgrounds with distinct edges and sides if you're going to go this route.
Unless you know you'll have time to finagle the fabric and get it just right, avoid using your logo on the background. It can look saggy if you don't have the fabric pinned up just so.
To alleviate wrinkles in the fabric, you can use clamps and clamp the fabric along the side posts of the background.
Consider putting your background at a height where you can sit and stand at your desk without having to move it.
Fabric X Banner Stands
X-stand banners are super cheap, lightweight, and quick to set up.
The poles go out from a central hub into the corners of the fabric (see the images above).
Henry, the director of marketing at Nectafy, actually took his branded X banner with him on his trip to Eastern Europe.
A couple potential problems are that the X stand itself takes up a couple feet of room behind your background, because it has to kick back, and if you're using a stretchy fabric, it pulls at the corners, which leaves the sides and top of the fabric sagging.
For the fabric, you can do a basic color no problem, but any design with textures, patterns, or a logo will be challenging. You can try a different fabric type (or vinyl), but it becomes difficult to care for and may sag.
If you're able to find a thicker fabric that still has some give to it, that could potentially work well for an X banner stand. It just needs to have a fixed dimension to it.
The other huge downside to using an X stand for a webcam background is that typically they are taller than they are wide.
In order to fill your entire webcam video frame, you would have to have a backdrop that's close to seven feet tall by five feet wide, and it still wouldn't be quite big enough to fill your webcam, especially in the middle. To make sure it's filling up the frame, you have to put the background quite close behind you.
With fabric for the X stand, it's not easy to get an image looking crisp
X stand can take up a lot of room when it's kicked back
Fabric sags on the sides and top
Tips For Implementing A Fabric X Banner Stand For Your Background
When designing your background for the X stand, go for a simple gradient, something without any lines or indicators of squareness. This will help your background to look good, even when the X stand pulls at the corners of the fabric.
For the most part, it's better to avoid putting your logo on an X banner stand background, because it can look wrinkled and stretched. (See the Nectafy logo in the X stand images above for further proof.)
Pop-Up Backwalls
Admittedly, pop-up backwalls may feel a little like overkill since they're meant to be used for trade shows, but you can do it.
These backgrounds work like a scissor lift—and they're also able to break all the way down to the floor. It's a beautiful thing.
They work exceptionally well for trade shows because they essentially pop up and give you a solid wall.
Sometimes pop-up backwalls have a silicone edge graphic around the outside that locks the fabric in to give a crisp picture.
The material used for pop-up backwalls looks fantastic when you print on it, but the challenge for using pop-up walls for your home office background is that they're bulky. Even though they break down, they're still pretty heavy.
The setup, even though it's exceedingly quick by tradeshow standards, is going to take time to get that silicone edge graphic looking right. In other words, these backwalls aren't easy to move quickly if you've got one in your home office, but if you're planning on being fairly permanent, they're an excellent solution.
Probably the biggest hurdle to these pop-up walls is their cost. They may be considered cheap for trade show standards, but the price is pretty hefty.
If you have the money and the room, though, these backgrounds are stellar.
Plenty large enough for your webcam videos
Crisp, clear image on the backdrop fabric
Silicon edge helps lock the fabric in
Logos and patterns work well on this type of background
Tricky to break down or put up over and over
Even though it breaks down, it can be a little bulky
Requires a bit more care than other background solutions
Tips For Implementing A Pop-Up Backwall
Spend money/time on getting an out-of-the-park design, because these pop-up walls can handle it. They showcase designs so well, that if you're going to swing it, you need to go all out.
Tension Fabric Displays
If you're looking for a professional, classy background solution for your video calls, check out tension fabric displays. 
Originally for photoshoots, red carpet events, or trade shows, these backgrounds do take up a bit of room, but their simplicity and modern look gain them points.
The fabric for these displays is sewn like a pillowcase, and it slides over a metal frame to stretch it out and get rid of any wrinkles.
Because the fabric is two sided, you can get twice the use out of your background by printing different designs on the front and back.
Designs tend to look good on these backgrounds because the fabric is under tension, and the setup process is relatively simple.
As long as you treat the fabric well, your design should continue looking fantastic.
Finding the right size may be a challenge, since some of these backgrounds can be pretty large, but these displays are certainly something to look into.
Easy to set up and break down
Keeps fabric wrinkle-free
Patterns and logos look good on this type of background
Can't raise or lower for a sit/stand desk
Usually stand bases are bulky
Can be an expensive option
Tips For Implementing A Tension Fabric Display Background
Consider getting a double-sided print—one side branded and one side unbranded. This will give you the most versatility for your video calls.
To get the best design possible (so it looks fantastic on your video calls), consider hiring a designer. This will ensure that the design is crisp and clean.
Collapsible Backgrounds
Collapsible backgrounds: those exciting, springy backgrounds that make you want to get out of the way when you open them.
These work really well for webcam calls, especially if you just want a solid color or simple gradient.
When you hang these backgrounds on a stand, they naturally face a lot of tension. Often, they may twist and move a little bit, sort of bow, because they're hung from a single point on their fabric.
We've actually tried having our Nectafy logo on a wood wall printed on a collapsible background. We discovered you can never get the lines straight because of the tension on the little steel frame. It twisted constantly.
While it was a no-go for us, the cool part about collapsible backgrounds is that most of them are reversible. Two sides is always better than one!
Some people like to use these for green screens. You can do one side green and the other side a nice solid gray or something classy like that.
Easy to set up and take down
Collapses small enough to store easily
Because of the way collapsible backgrounds hang from the stand, the background doesn't always hang flat. It can twist or bulge.
Tips For Implementing A Collapsible Background
If you want to go this route, make sure you buy one large enough that the curves in the corners won't show in your webcam video. You'll probably want four and a half feet on the height in your webcam video, so you'll need a five foot by seven foot background at least. The bigger you buy the background, the farther away you can put it from your back, so it doesn't feel like it's eating you.
Webcam Backgrounds (The Webaround)
The Webaround has made quite a name for themselves. It's small, portable, and easy to set up. If you don't mind that it's a little lower quality than a real background (and that it's literally right up behind your head because it attaches to your chair), this could be a fantastic option, especially for a green screen.
I use a standing desk, which usually rules out this option for me, but a lot of people think they're great.
The original Webaround is rounded in shape, but Webaround has also introduced a rectangular version, called the Wide Shot, that helps the corners of your backdrop not to show on your webcam video. I think the folks at Webaround realized when you do a round background, you have to get it basically right up on your screen to get everything covered.
The best part about the Webaround is that it's super inexpensive compared to almost all other background solutions.
If you're planning on doing virtual backgrounds and not trying to simulate a real office space, this is certainly a good option.
As I mentioned under the green screen background heading, you do have to make sure your lighting is good to make that work.
The nice thing is, if you can get decent lighting on your face that doesn't cast shadows (like a ring light right behind the webcam), the webcam perceives that there are no shadows because the Webaround is so close to you. You'll still have a little bit of a ghosting right around your head, but your background should be lit pretty well.
One of the most inexpensive background solutions
Easy to set up and take down
Takes up very little space
If you use the Webaround for a green screen, you'll have the same issues I mentioned earlier - ghosting around your head and limbs
Uncomfortable to have the background right up against your head
Tips For Implementing A Webaround Webcam Background
If you're going to use a Webaround for your webcam video backdrop solution, consider purchasing the rectangle version so that it covers more of your webcam video.
Make sure you pay attention to your lighting and get plenty of light on your face. A ring light like this one behind your computer will help with this. For a green screen to work well, you need a lot of light, so in addition to the ring light, make sure you get some sort of wash light or ambient light so your green screen works better.
Retractable Banners
Retractable banners (also called retracting banners) pull up from the floor and are extremely quick to set up.
The challenge is finding one wide enough that you can leave a few inches of space between you and the banner.
They tend to be a little on the heavy side, but if you're looking for an easy backdrop solution for your video calls, they're worth looking into.
Good for taking down and setting up
Able to be moved out of the way
Challenging to find a big enough size to cover entire background
The sides of the design can get a little flabby
Tips For Implementing A Retractable Banner Background
When creating a design to print on a retractable banner background, make sure the sides of the design are not crucial to the overall look, since the sides tend to sag a little on these types of banners.
Retractable Photo Backdrop (Wall Or Ceiling Mounted)
If you work with your webcam facing a wall (or you're willing to attempt the dangerous task of mounting this backdrop to your ceiling), a retractable photo backdrop could be a simple way to have a solid-colored background for your video calls.
As long as you're only going to be working in one place, mounting this should be no problem.
You can pull it down to use, then roll it up when you're done to get it out of the way.
Of course, you can't get a custom design printed on it or request specific patterns, but if you like the colors you find online, you're good to go.
Easy to get out of the way by rolling it up
Creative solution, similar to a paper backdrop
Permanent - it has to stay in one place
Only certain prints and colors available
You can't print your logo on it
Tips For Implementing A Retractable Photo Backdrop
Think before you drill. Make sure you mount the backdrop where you're really going to want to keep it, because you're not going to want to move it later.
Make sure you place your desk in the optimum place for lighting before you lock in where you want to mount your photo backdrop.
Printed Foam Board
Foam boards give you a crisp, clear graphic and look first-class. They're pretty inexpensive to get a hold of, and you can even print double sided if you want more than one design.
If there's a wall behind your workspace (and close enough to your webcam), you can hang a printed foam board behind you. Alternatively, you can rig up a stand to hold it up behind you on video. Either way, foam boards work well for rooms where you can leave them set up.
If you want a background that can be moved around or broken down, this won't work for you.
You'll have to use a huge foam board to make sure it fills the entire webcam video, so moving it will be almost impossible, since they don't break down at all.
Logos and patterns look great on these backgrounds
May be hard to rig up if you don't have a wall directly behind you
Difficult to store without damaging
In order to get a foam board big enough to work for video calls, you'll basically have to leave it up all the time (too big to store)
Tips For Implementing A Foam Board Background
When ordering a foam board for your background, make sure you order one that's large enough to fill your webcam video from a few feet away. You're not going to want to have it pushed right up against your body when you're doing a live video, so you'll probably want your foam board to be at least six feet wide.
Order a matte finish for your foam board, so it doesn't reflect light. Shiny backgrounds will make lighting a nightmare.
Wall Decals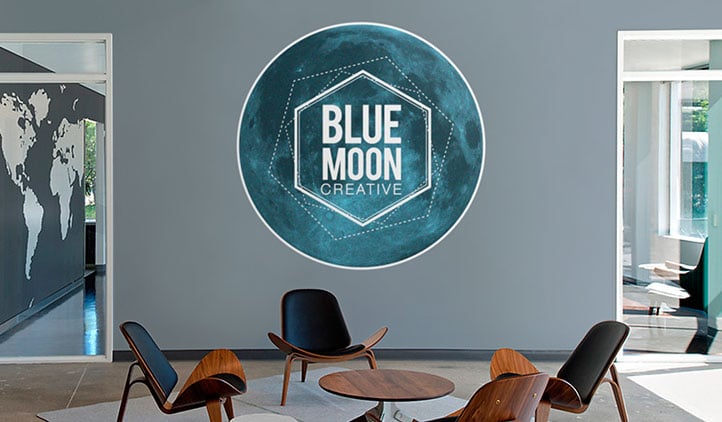 If you've got the ability to face your desk into the room, then you can use a wall behind you to make a statement.
Wall decals are a cool way to go if you want to use branded iconography (like in the image above) or simply want to add some texture to add interest. Anything to save you from a blank wall!
Easy way to get some interest in your background if you work with a wall behind you
Logos and patterns look great
Your webcam has to be facing a wall
Lighting can be a challenge
Permanent background - you aren't able to move it
Tips For Implementing Wall Decals
Think strategically about what you want to be seen on your decal. Less is more, so consider simply printing your logo.
Video Set Behind You
I have to confess, this is my favorite idea on this list, because I've gone through the hassle of doing this in one of my home offices. 
To create a video set behind you, consider building a wood wall or using corrugated metal (think Chipotle). Use backlighting elements (such as uplighting or lights behind a logo sign) for interest.
Background will give your video calls a personal feel
Unable to move your background often - it's relatively permanent
Tips For Implementing A Video Set Background
When you create your video set, using backlighting will be what takes it to the next level. Just make sure to keep the intensity low—less is more. If your background is too bright, your webcam will re-adjust and cause your entire live video image to look dull.
Create multiple layers of depth and use multiple textures in your set.
Whiteboard
The image above is one of my offices that I built out after I moved out of the shoe loft offices in South Shore Massachusetts.
The conference table was a direct rip off of an amazing table I simply couldn't afford. 
While I intended to use the white board as a background, I literally could never think of anything to write behind me that I wouldn't have to explain.
Besides that, it was super reflective and always produced a glare.
When I get on a web call with someone who has a white board behind them, I spend most of the call trying to read all of the weird notes they've written.
A whiteboard background is pretty memorable in its own right, so if you're up to the challenge of coming up with pithy sayings or genius equations to write on it, it's a viable option!
Versatile (if you're a good artist)
Reflective material that glares on webcam videos
If you can't think of anything to write, you've got a blank white wall behind you
Tips For Implementing A Whiteboard Background
Make sure what you have on the whiteboard is what you want people to see. Don't forget and put your private company notes, checking account number, or secret formulas on there before your next call.
To Wrap It All Up
If you've made it to the end of this post, it's obvious you're passionate about taking your video calls up a notch. Finding the perfect background for your webcam calls is a trial and error process, but once you find what works for you, the professionalism of your video calls will make the time well worth it.
If you've tried any of the background solutions mentioned in this article (or have another solution to add to the list), tweet us @anyvoo. We'd love to get a conversation going.
Want a background solution for your video calls that doesn't involve tons of time and work to get it looking great? Check out the Anyvoo video conferencing backdrop. It's big enough to fill your webcam video, small enough to be moved out of the way when you're done with work, and cool enough to give your video calls that extra pizazz you've been looking for.
Photo by Chris Montgomery on Unsplash