I started a growth content agency called Nectafy when I lived on the south shore of Boston, in a quirky and charming 110-year-old house. My family of five filled up the house as it was, so I decided I'd work out of the basement (cellar) to conserve space.
It was a dark and scary place. With its flagstone walls and mildewed wood, it wasn't exactly the perfect workspace.
Don't get me wrong—apart from the barely six-foot ceilings and the roaring boiler next to my table, it was super professional. But it wasn't the most promising place to start using video calls for my agency.
Even with this inauspicious beginning, I pushed on, knowing how important video calls were going to be for my business. I did some demo work in the basement and mounted a tv behind me, so it would show on my webcam video.
The office setup I concocted did the job, but I still dreamed of having a home office completely optimized for video calls.
My chance finally came when our family moved to South Carolina a few years later. I got a room dedicated solely to being my office, and I was elated. My plan was to build a wood feature wall that would define my work space and provide a simple, professional background for my video calls. Since we're always switching things up in our family, I decided to make the wall moveable so I could take it with me in case we decided to rearrange rooms. With that idea in mind, I jumped in. It took some trial and error, but I discovered an excellent process for creating a simple, beautiful wood wall.
I know I'm not the only remote worker out there who has come up against the challenge of making a home office look professional for video calls, so I wanted to share the step-by-step process I used to build my wall. I hope the steps and photos below will give you a starting place for optimizing your home office, too.
How to Build a Moveable Wood Wall for Your Home Office In 10 Steps
Step 1: Determine what size wood wall you want to build
The first step to building a moveable wood wall for your office is to measure where you want the wood wall to go. Not surprisingly, you need to determine how big to make the wood wall to make sure it will fit. For my project, I measured the wall in my office I wanted to use and settled on an 8′ x 8′ wall that would be assembled in 2'x8′ pieces for simple moving.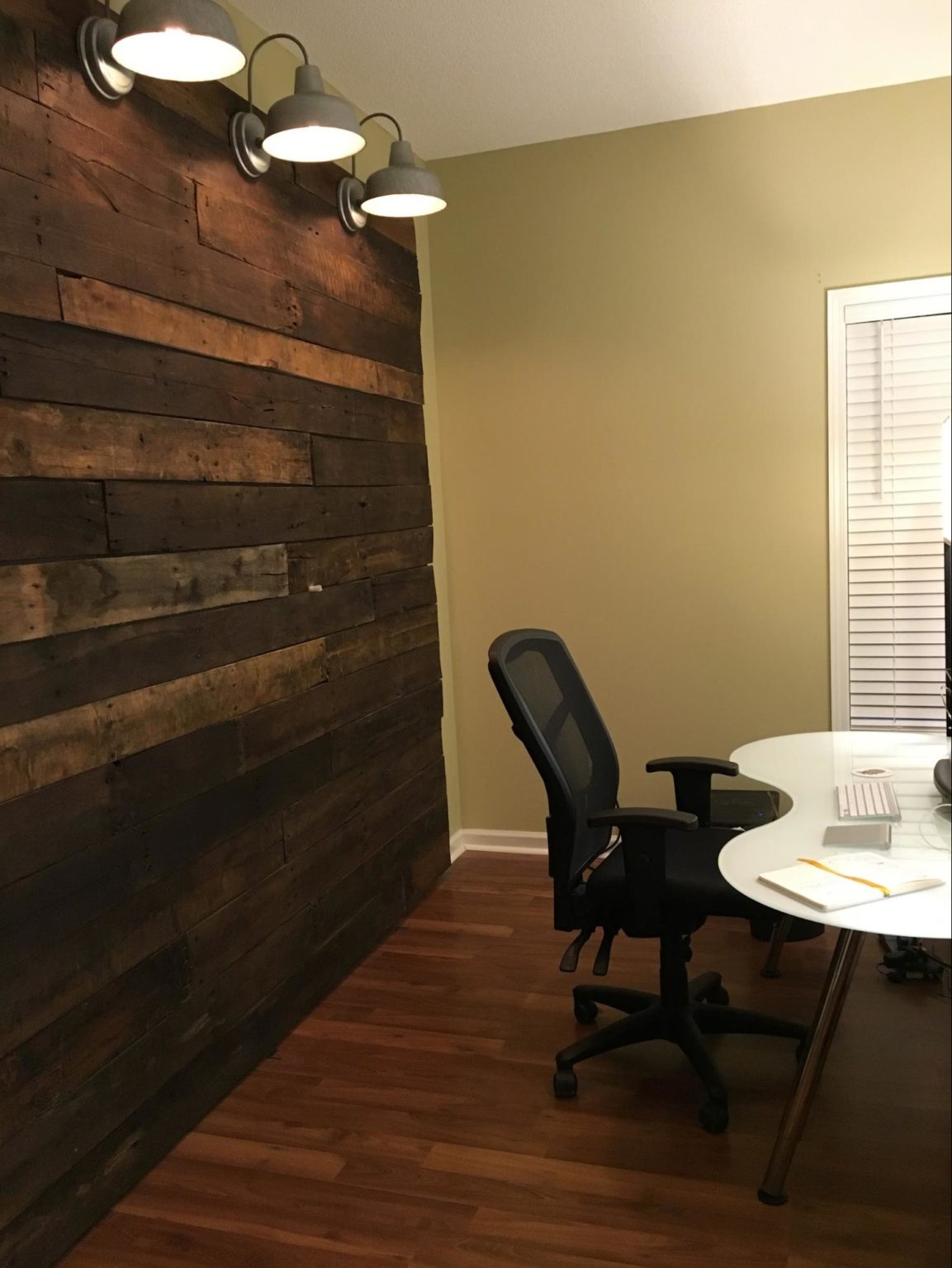 Step 2: Find the wood you want to use
Before you can launch into your project, you'll need to locate a place to buy the wood. Craigslist is a good place to search, because you can find wood from pallets or other projects that will have character to it already. For my materials, I found some guys on Craigslist selling pallet wood they had already cut into boards. Depending on what kind of wood you buy – and what shape it's in – you may want to count on buying extra square footage, to leave yourself some wiggle room. When I picked up the pallet wood I was going to use, I learned that the wood had come from pallets used to transport giant tractor tires. It was covered in oil and grease, and I ended up buying about 80 square feet of the boards, knowing that I would need a final amount of 64 square feet. This gave me some room for error and let me get the cooler looking pieces of wood where I wanted them.
Step 3: Use a drill with a wire wheel attached to knock off any debris or loose splinters
Once you've purchased the wood you want to use for your wall, you need to make sure it's clean and doesn't have any jagged, dangerous edges. I used a wire wheel attached to my drill for this and simply followed the grain of the wood. This was to knock out any weak wood or odd debris and/or critters that were in there. I wanted my wall to have lots of rough areas, so I chose not to sand it. If you want a more refined look, this would be the time to sand.
Step 4: Scrub the wood with bleach
Now comes the important part, which determines the overall look of your end results: cleaning the wood. I used a good old fashioned cleaning scrub brush and bleach water for this. Make sure you wear rubber gloves when you do this, because, well, bleach. The bleach water will help lighten the boards and hopefully kill any organisms that might be lurking down in the wood. I left the wood out in the sun to dry and further lighten it.
Step 5: Stain your wood
The color stain you choose is up to you. I stained my wood with a custom mix of stains by Minwax, a combination of walnut and a stain with a little bit of red hue to it. The stain itself is super easy to apply. Just brush it on, let it dry, and repeat as many times as you want. The more times you apply the stain (letting it dry in between), the darker and richer the color will be. Make sure you let the stain dry for 24 hours.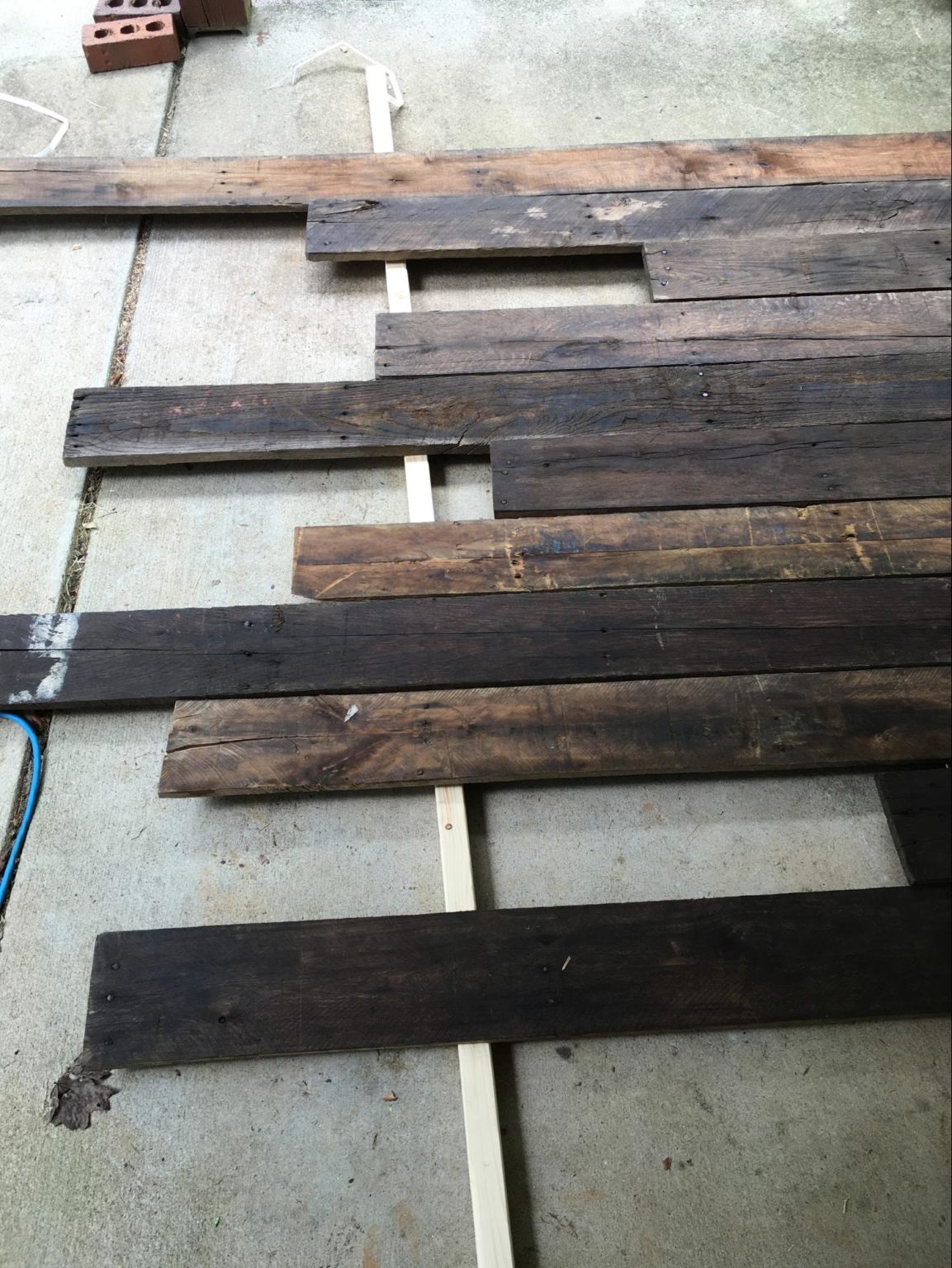 Step 6: Get plywood involved
Depending on what size wood wall you decide on building, the amount of plywood you'll need will vary. For my wall, I bought two 4'x8' sheets of thin plywood and cut them into 2'x8' pieces. Make sure to paint your plywood a dark color similar to the stain you used on your wood boards, that way even if your boards have gaps in them, the plywood won't stand out. For painting my plywood, I actually just used several paints I had and mixed them together. The color doesn't have to be exact for this, since it will be behind the wood boards.
Step 7: Lay out your wood boards on the plywood and cut them to final width
Lay down some 2'x4's on the ground. This will give you space to lay out your pieces of plywood. Lay your stained wood boards on the plywood boards and overlap them off the ends of the plywood. With my wood boards, I was able to cover 3/4 of the plywood fully overlapping. The boards weren't all the same width, so I had to match them up. I overlapped the seams with a full width of boards, so there wouldn't be a seam between the panels once it was finished. Once you like how the sections are looking, mark the boards and cut them to the final width. You can use the remnants that you cut off and place them in the areas below to fill out additional rows.
Step 8: Secure the boards to the plywood
Once you have the boards arranged just how you like them, use a brad nailer and nail straight through the board and down into the plywood. Start at the bottom of the wood wall and work your way up, careful not to shoot nails into more than one piece of plywood. This way, you can still move the pieces of the wall individually.
The brad nails are just to hold the wood boards in place where you want them. Once you've nailed the boards to the plywood, lift the plywood and put screws through the back of it into the boards. The screws will hold the boards to the plywood more securely.
Step 9: Build a frame that matches up with the wall studs in your office wall
Measure the wall where you want to mount your new wood wall and center it visually. I ripped the 2×4's in half lengthwise to save on cost, but you could also just turn a 2×4 on its side. Build the frame on 16″ centers so the frame matches up with wall studs. Use a nail gun to fasten the frame to itself and screw the uprights into the studs.
Step 10: Mount the bottom piece of your wood wall
Mount the bottom piece of plywood to the frame, using a level to make sure things look good.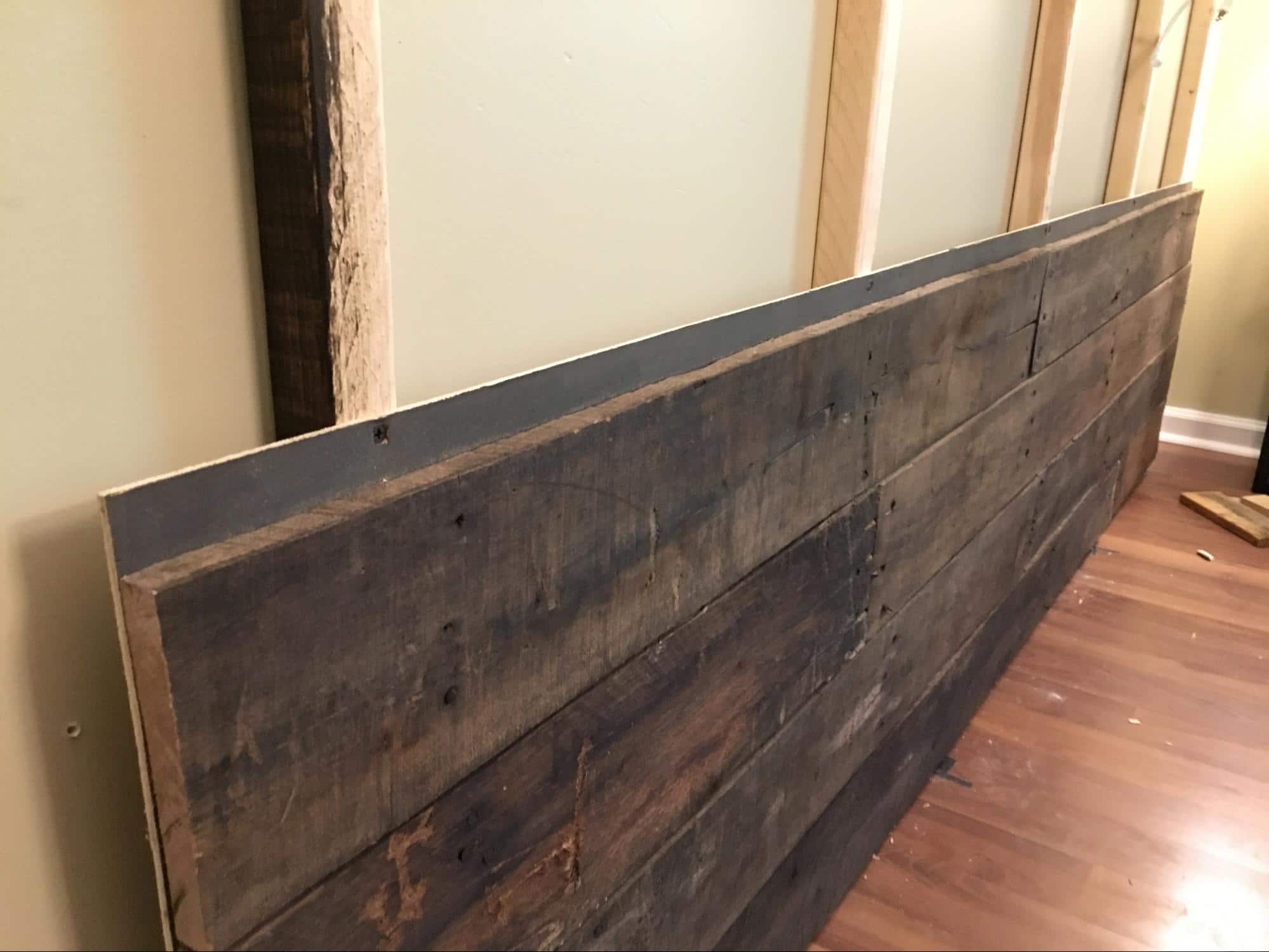 All that's left after this is to add the next two panels above it by just laying them on top of the previous panel.
Conclusion
I liked the final look of my wood wall so much that when I took my family on a work-from-the-road adventure across the US, I built a similar looking wall in my tiny project camper, complete with a printed Nectafy logo. Several clients didn't even notice that I wasn't in front of my office wood wall!
Of course, as I had foreseen when I built the wall, my family reconfigured our living arrangements not long after. My 19-year old was able to enjoy the room, but instead of moving the wood wall to my new office, we decided to leave it in there because it looked so beautiful.
Don't worry. My dreams of a video call optimized office weren't crushed. I started using my Anyvoo webcam backdrop. In fact, I actually took a picture of the wood wall I had built, and then photoshopped my Nectafy logo on it. I've been using that video call backdrop for almost a year now, and everyone who sees it is quite surprised to find out that it's not an actual wood wall.
I hope you enjoyed this step-by-step article, and it gave you a good process to create your own wood wall masterpiece. If, after reading through the process, that wood wall tutorial looked like too much work, check out our Anyvoo webcam backdrops. They let you look professional in minutes, no construction project necessary. 😉