☑Your office or studio is set up.
☑You have your video backdrop.
You're almost ready to get on camera…but there's one thing left to do before you're ready to shine:
???? Hang up that backdrop to create a presentation that looks as professional as you are.
Video backdrops come in a variety of materials, and many require stands. But what if you don't have a stand or can't afford one—can you just hang the backdrop on a wall without a stand?
Of course you can! In this article, we'll show you how to hang a backdrop on a wall without using a stand in four different ways. Then we'll explain a bonus fifth option you may not have considered. Read on to find out what it is!
How To Hang A Backdrop On A Wall Without A Stand: 5 Methods
Method #1: Hang your backdrop over a curtain rod or pipe.
If you want to hang your backdrop without a stand, the most common solution is to drape the backdrop over a pipe, rod, or beam. There are a number of ways to achieve this, depending on your budget, room layout, and willingness to do some installation work.
The simplest version of this method is to install curtain/drapery rods, and then hang your backdrop from the rods as if they were curtains. If your backdrop has grommets, you can hang the backdrop from the rod using hooks, as if it were a shower curtain. If it doesn't have grommets, drape the backdrop over the rod as if it were a towel on a towel rack.
Alternative: If your backdrop is lightweight and has grommets, you can attach removable wall hooks to your wall or ceiling instead of a rod, and then hang the backdrop on the hooks through the grommet holes.
You can achieve the same effect in a variety of other ways using the same principle.
For lightweight backdrops, you could install steel angle brackets (the kind used to bind wood) and place a small wooden beam or dowel to act as the rod.
For heavier backdrops, you can build a mount using PVC pipe and hang from a hook and chain drilled into a ceiling beam, or attach a plumbing pipe mount to your ceiling with metal plates.
The downside to hanging your backdrop this way is that it probably won't hang straight—and it will likely have some wrinkles. This isn't a problem when you're hanging curtains, as they're meant to drape loosely. But a video backdrop hung this way may appear uneven on camera—which will look unprofessional to anyone watching (defeating the whole purpose of your backdrop!).
Messy and wrinkled backdrop
Can't move backdrop location
Method #2: Build a frame for your backdrop and mount it to the wall.
The best way to avoid the wrinkled, messy look of a draped backdrop is to wrap your backdrop around a frame before mounting it on the wall.
You can build a frame from a variety of materials, but a wooden frame is the most practical option. You can create a frame by cutting pieces of 1/4inch plywood to fit the dimensions for the backdrop, and assembling them into a frame.
Tip: If you don't want to cut the plywood yourself, most home improvement stores will cut it for a small fee (sometimes even for free).
Then, stretch and wrap the backdrop over the frame, and staple it into place on the backside of the wooden frame. The result? Your backdrop will look like a large painting that you can mount right on your wall.
To hang it, you'll either need to screw it directly into the wall, or attach eye hooks and metal wire to the back of the frame and hang it from wall screws.
More expensive cost of materials
Potentially damaging to the wall
Method #3: Attach your backdrop to the wall with tape or pins.
The simplest way to attach anything to a wall is by just using tape, wall tacks, or push pins—just like you did for those posters in your room as a kid.
The upsides to this method are obvious: It's extremely easy and cheap. However, the downsides make this a less-than-ideal option.
This method only works for very lightweight backdrops, such as those made of paper.
Using tape or tacks can cause tearing or damage the design, especially if you try to move the backdrop.
Most importantly, the appearance will reflect the effort. If you put the tape behind the backdrop directly to the wall, the backdrop won't be flat. If you put the tape on top of the backdrop, it may be visible on your webcam and look… well… less than professional to say the least.
If you must use tape to hang your backdrop, be sure to use painter's tape to minimize the risk of damage to your backdrop (and the wall).
Limited to lightweight backdrops
Unprofessional presentation
Method #4: Upholster your backdrop onto the wall using staples or liquid starch.
What if you don't just want to hang your backdrop on the wall—you want it to be the wall? If you have a heavier fabric backdrop you're very confident won't need to move, you can also upholster your backdrop to the wall with staples or liquid starch, as if it were wallpaper. You can learn more about how to upholster fabric to your wall here.
Keep in mind this method is only for the extremely committed, because once it's up, it won't be easily coming down without damaging the backdrop (and the wall). Staples will come off more easily than liquid starch, but will still damage the backdrop.
The upside is that, if you do it right, the backdrop can have a nice flat appearance, as it isn't hanging off anything. The downside is that you won't be able to move it at all—you're literally attaching the backdrop to the wall.
This might work if you're set on your home office and the location of your workspace; you're ok with a more general background design; and you don't want to change anything once it's done. But the level of commitment, the limitations, and the work make it impractical for most.
Good flat appearance if done correctly
Very difficult to move or change
Bonus Option! Method #5: Hang an Anyvoo video backdrop without a stand.
What if you don't want to hang a pipe from your ceiling, build a plywood frame, or upholster your walls? What if you want something that's ready to go, but also looks amazing?
I wanted that too. That's why I created Anyvoo.
Anyvoo makes backgrounds specifically designed to look great on video calls. They're portable, easy to use, and easy to set up, so you can use them from anywhere.
Since they're custom designed for video calls, they also look the best of any option above. Tension-fabric material ensures any print, pattern, or logo looks good, no matter how you store your backdrop when you're not using it. And they're just the right size for a webcam, saving space in your home office or studio from a too-large background option.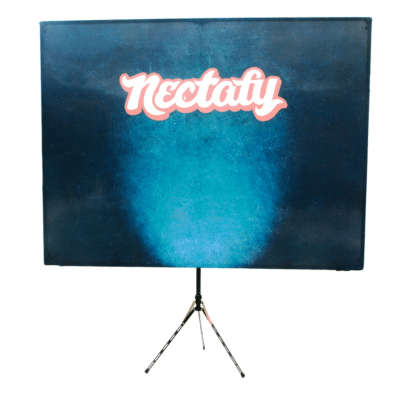 You have the freedom to add any custom design you want to your double-sided backdrop for maximum flexibility, or use one of our cool background prints especially designed to look good on camera.
While the Anyvoo comes with a stand should you want it, the choice is up to you. You can set up your Anyvoo with no stand if you choose by easily attaching it to the wall.
Want a video backdrop that's as ready as you are? Check out the Anyvoo video conferencing backdrop. No construction, upholstery, or trips to Home Depot required.